…Then two entries turn up together. Just like busses
.
Now you know what it would look like if Mercedes made trains.

It's probably good that I don't live in this town judging by the drivers face when I took this. He seemed to think that photographing a bus in the rain was somehow odd.


One of the fantastic things about Germany is that the public transport systems in different cities are usually very different from each other. Come to think of it, there are sometimes multiple systems in one city. Essen has a dual gauge light-rail system: metre gauge trams which run on dual gauge track with the standard gauge U-bahn.



Incidentally, if the U-bahn units have a slightly familiar look about them, theres a good reason…
A
sister unit in original colours gives the game away.


Ex London-docklands stock is the mainstay of the line, rebuilt for driver operation and overhead current collection, which would seem to be a rather expensive way to get second hand stock.
Our nearest rail connection in Essen was with the high-floor metre gauge trams which are a pig to get a baby push chair into. There's no way a wheelchair user could get in unless they are fortunate enough to live by a stop with a platform. This used to be an acceptable state of affairs all over Germany but I was surprised to see a city as big and wealthy as Essen dragging their feet on accessibility.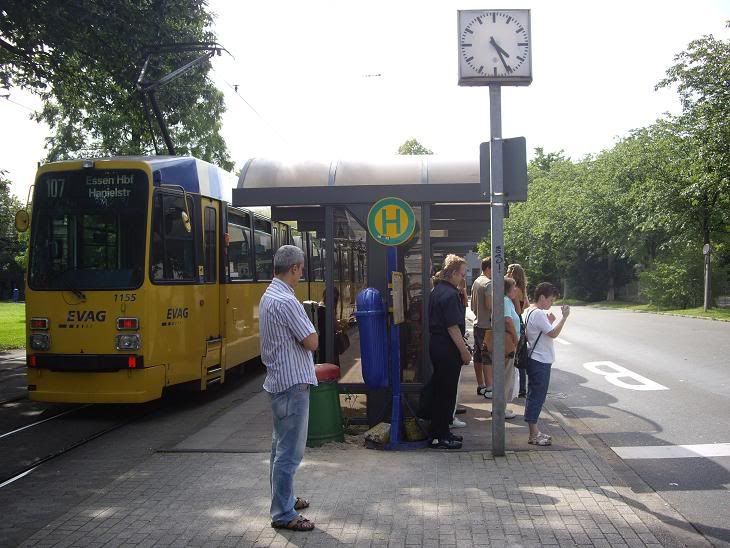 On the other hand passengers can get off the tram, and a low-floor bus comes along a few minutes later to take them onward on one ticket. It's that simple. It's the norm in Stuttgart as well, so much so that I never bothered to even blog about it -so why is it that when we travel in the UK we have to get off the train, drag luggage and three tired boys 100 metres, and up a flight of steps, across a busy road and wait at a shelter less bus stop for half an hour, and then to pay for another ticket (with exact change) when it arrives?
A hint of politics coming in, so I'll change subject with this shot of the miniature railway in the Gruga Park in Essen. I'll tell you all about it later (i.e when I've found out more…)