Yesterday I was in a warehouse visiting the location shooting of a film project I'd helped out on last week. This isn't half as glamorous as it sounds, but while I was there and everyone else was busy doing important technical stuff I don't understand, I happened to see a wagon turntable in the ground, which turned out to be part of a small system which I estimate to be 50-60cm gauge. The track looked pretty old and clapped out, but then so did much of the warehouse, and one of the staff said that they still use it regularly. He also said I could take pictures, so I ran off and did before someone else came along who thought otherwise.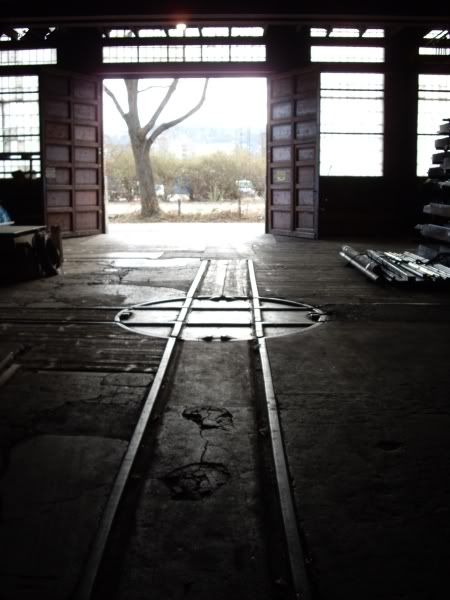 View out of the front door. The tree is at the edge of the former standard gauge goods yard. The narrow gaige track is very close to the door and further along the street there are the remains of some standard gauge wagon turntables opposite similar factory doors. I did wonder if a standard gauge siding once came through the doors.
Overhead view showing the scales in the background. The disused track dissapearing bottom right goes into the offices where it runs along a corridor
I wanted to take a picture of the standard gauge turntables but unfortunately when I went back someone had parked on them in defiance of several 'no parking' signs. I'll try another day.