The Maschienenfabrik Ostfildern have been working on the third wood wagon. This is going to be slightly different from the first batch with deeper side frames and wider uprights to give the impression of an altogether heavier unit. This one will also be less flexible with an open frame designed to take wood or pipes but not the containers. I figure the KÖB will have a fairly heavy wood traffic so some more specialised wagons could be justified.
This marks a new first, because I'm basing the model on a standard gauge wagon, rather than a narrow gauge, and I'm modelling a prototype I've been able to photograph myself rather than one off the internet. Here's a (battered) example of the original, awaiting departure from Breisach in behind a MaK B-B unit owned by the Südwest Eisenbahngesellschaft (SWEG) on a damp day in January this year.


I cut most of the pieces for the wagon on Saturday afternoon. I debated making the frame from sections, but eventually I went for making the whole lot from one piece, on the basis it would hopefully be a bit stronger, as it is fairly thin: 0.5mm plasticard. Because of this, I made the bracing pieces deliberately heavy-duty to compensate.

By the time we had to get ready to go out for the evening -there was a festival in the local town and the boys wanted to see fire-eaters and other mesmerising things- the wagon looked like this: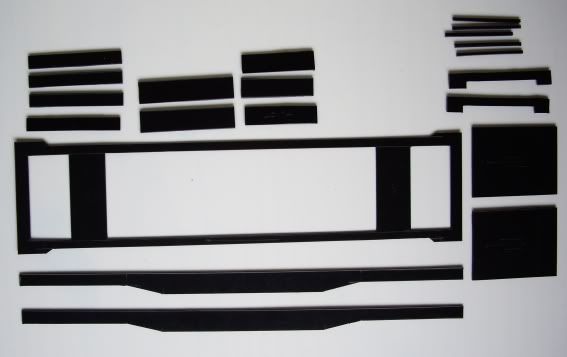 Then today, I took a deep breath and made the usually fatal step of trying to stick it together.
Remarkably, it worked, mostly.
I had a couple of "Did you spot the deliberate mistake?" moments, notably when I realised one of the cross-beams was right where the bogies (trucks) were supposed to go, but a bit of cutting made the beam high enough that it didn't foul the wheels and all was well…
If things go on like this I may reach 8 wagons within the year…
I really have to build the layout now.


[

Update: Tues 11th. I have now corrected most of the typos and put the correct code in for the pictures, so now whan you click on them you get a bigger version instead of the Photobucket front page. Sorry about that.

]