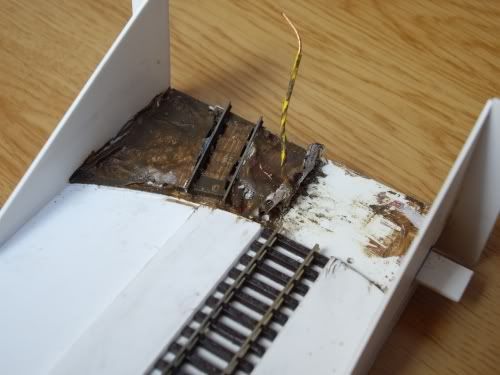 Well, it can't always work...

So I started to make the scenery: newspaper all around and in between the rails. After everything had dried, on goes the diesel, and it ran fine except for one little section of track on the end of the sector plate. I suspect I broke a wire when building and painting the scenery. Off came the newspaper, and yes, there was the broken wire. It was a choice of digging up all the scenery until I exposed enough wire to cut back to, or running a fresh wire under the sector plate to power the line directly. I opted for the latter. So, in theory what I needed to do was de-solder the wires on the track, run the fresh wire into place, and resolder. What happened was that the soldering iron was too hot and heated the rails, melting the sleepers and eventually causing the whole lot to fall of in mangled mess.

Well, I wasn't totally happy with the way it was stuck down anyway, and at least on something so small, it isn't too much to replace. It still slows me down a bit though which isn't helpful when I'm so close to the deadline...