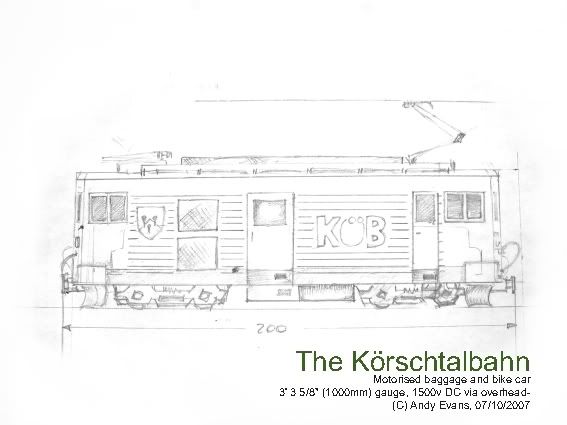 If you've been following my mutterings long enough, you'll know that I originally set out to make a modern narrow gauge line in the Black Forest in 1:43 scale, using 16.5mm (HO) track. In theory this scale is great for making making narrow gauge trains: you get hold of old HO/OO scale models: you take the top off, build your own slightly larger superstructure on the chassis, and you have a narrow gauge locomotive (and if you chose the right model, a body you can hack up for later projects as well) This is fine as far as it goes, but small HO/OO wheels can look a bit silly under a big locomotive, and with my grandiose designs, the Körschtalbahn's locomotives tend to be pretty big. (they are the same scale size as
trains on the Zillertalbahn railway
, although I don't think any of you believe me) One solution to this would be bigger chassis, from places like 'Hollywood Foundry'. Hopefully I'll be able to save up and get one soon, but until then I'll have to keep getting second hand models from places like Ebay or similar, so the wheel problem remains -especially with bogie chassis.
I reckon I've found a solution though. If I go down a bit in scale to 1:55, it brings everything down to a manageable size and things which are huge in the larger scale, suddenly look more reasonable, so I'm going to try building a couple of of 1:55 scale models and see how they turn out. 1:55 has been around for a very long time, and is often called "The Ffestiniog Scale" because it started with a series of kits from GEM based on the Ffestiniog and Talyllyn railways.
1:55 scale version: suddenly it fits...
Once I can play trains on 'Westerooge' I'll make a start on this Rhaetian Bahn-esque motor luggage van, a model I've wanted to make since my first attempts at scratchbuilding in the 1990's. I eventually gave up because it always looked terrible in 1:43 scale when squeezed on to a HO gauge chassis, but when I tried it out in 1:55 I found that it fits rather well. Running on HO track, this would scale up at about 3 feet or 914mm. This is a bit small for metre gauge, but there are a few 900mm gauge railways around Germany, and anyway, I'm not going to worry about it too much- for some reason it bothers me less than tiny wheels.
I've been dithering about this for a while- building 'Westerooge' was partly to gain some experience in 1:43 so I have something to compare the result with (and also as an excuse for procrastination), but I did join
the 5,5mm Association
a while back, and they haven't thrown me out yet, despite my lack of interest in all things Ffestiniog. They are running a competition to build a micro layout this year, which I may just enter when I come back from the UK...