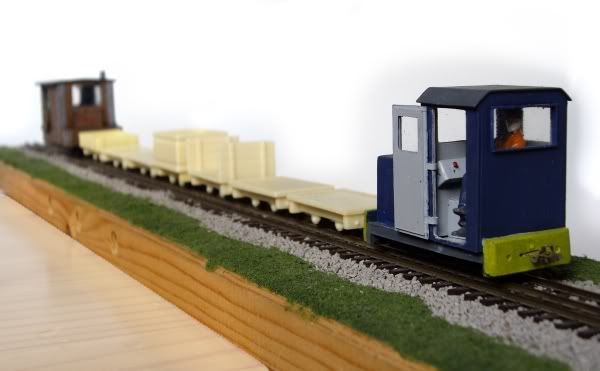 The picture above shows the extent of this weekend's progress: I've adapted 7 wagons from the Black Dog Mining Co. to take DG couplings and glued underframes to bodies. I'll put the couplings on after I spray the wagons with primer, which will be after I get some primer, probably on Thursday as I'm teaching English near the hardware shop then.
I guess I should have some belated new year resolutions here, so I can check in December and be reminded of them, but with Middle Son still doing the 'King Kong' impressions up the shelf, I don't know when I'll be able to start on 'Sägewerk Pfeifle' –especially as his smaller brother is already claiming the high ground on the Sofa, so he'll be climbing anything with a foothold in a couple of months, so I doubt the model will be safe in the near future. On the other hand 'Westerooge' is moving along if a bit slowly, and if I follow my plan to keep it in a box file it should be safe from small fingers (and teeth) so track permitting, this will probably be the main project for the year.
I'm also hoping to go and see a few other railways, especially local Narrow Gauge lines, as there is a lot of the local area that is accessible by rail, the most civilised transport form, and I've not had a good look at it, and as I have a railcard offering a 25% discount it'd be silly not to use it more, so I'll aim to be taking lots of pictures and I'll inflict my stories on you all as well.
But then, "The Körschtalbahn" is a bit redundant as a blog name if I'm going to be writing more about prototype railways, and the model I am building this year is based on the North Sea coast, so to reflect all these changes, I'm changing the title -for now at least- to the broader "Railway Misadventures". I'll see if I like it enough to keep it…
The Körschtalbahn still remains my first interest though, so I doubt I'll be able to stop working on buildings and stock for Sägewerk Pfeifle, ready for the day when the smaller persons are less prone to try and eat it…